Shurlock Bones and Dr. Roger
In 2010, I found a comic that drew as a child. From internal evidence I must have made it in late 1995 and/or early 1996, although the copyright declaration is dated MCXXVIVVIMC, which surprises me. I thought I knew how Roman numerals worked by then, so either I didn't, or I didn't care and just didn't think MCMXCV looked flashy enough.
It is written on a few sheets of thick A3 paper actually bound together with staples in the middle and folded over, so it is possible it is some comic-making thing I got for Christmas 1995, or 1994, which would make the author eight, or seven.
Read, then, a forgotten classic of the last, lost century: THE CASE OF THE MISSING BONE, Solved by Shurlock Bones: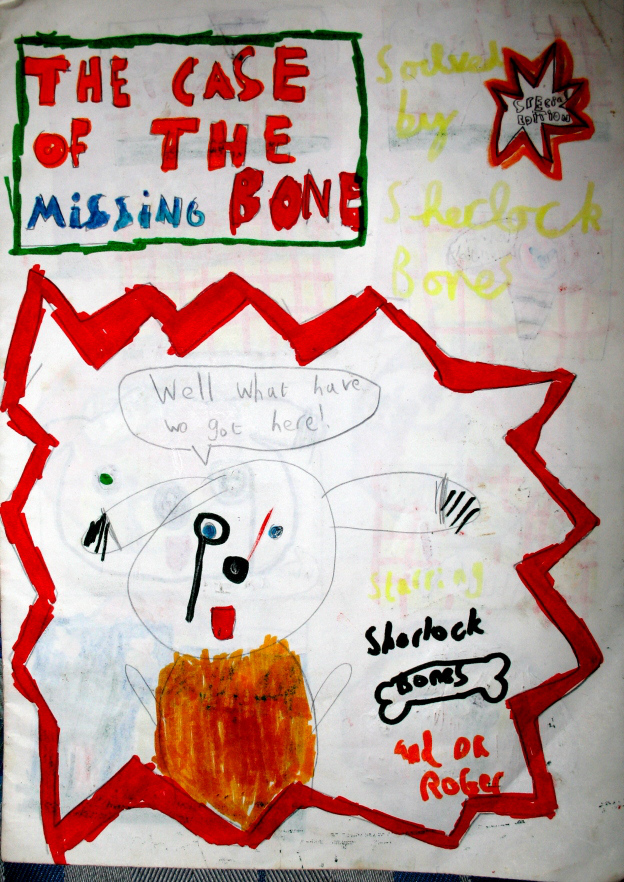 A special edition, indeed. Actually, fair warning: the whole detective/mystery thing is a sham. It is a [stuffed] animal fable about the brutalisation of bodies, de- and re-humanisation and the lasting changes wrecked by both the genocidally inhuman Other and the necessarily dialectical forces that attempt to restore the wrong done, all informed by the high modern Space Age imaginaire. Notice, though, that there is no author mentioned on the cover, nor in any other page.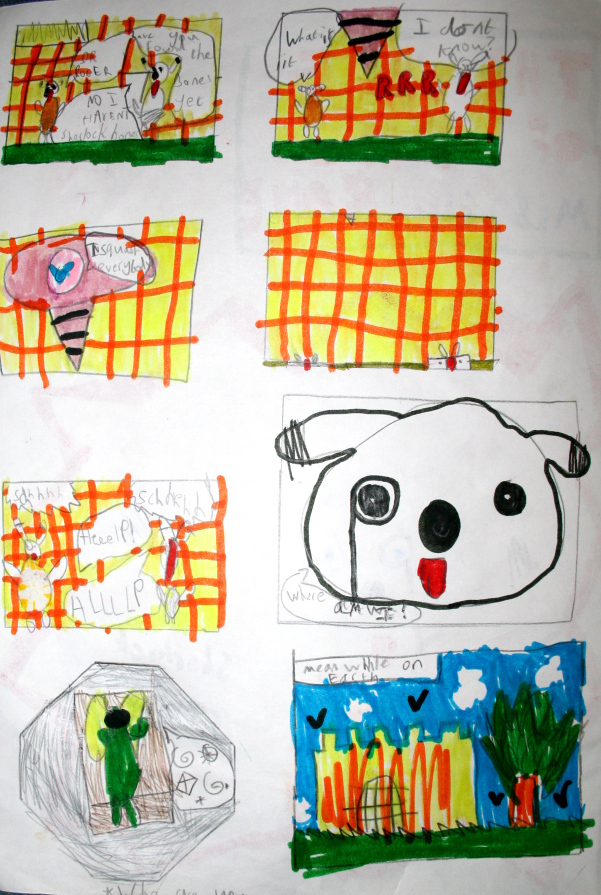 Pg. 1 Pan. 1

[Our heroes are standing in front of a stone wall, conversing]

Shurlock B: DR ROGER
Shurlock B: Have you found the bones yet
Dr R: NO, I HAVENT shurlock bones

Pg. 1 Pan. 2

[A Drill descends from the ceiling with a RRR noise]

Shurlock B: what is it
Dr R: I dont know?

Pg. 1 Pan. 3

[The Drill is revealed to be a Vehicle of some sort]

Mysterious Occupant of the Vehicle: I squash everybody

Pg. 1 Pan. 4

[Our heroes are squashed into the ground, forming hideous caricatures of themselves]

Pg. 1 Pan. 5

Pg. 6 Top Panel

[Our heroes are being drawn upwards, making a curdling "Schhh! Schhh" sound. Shurlock is illuminated by radiation and Dr. Roger's stretched tongue lolls about obscenely]

Shurlock B: HeeelP!
Dr R (distorted): HLLLP

Pg. 1 Pan. 6

Pg. 6 Top Panel

[A closeup shot of Shurlock B's face, monocle clearly visible]

Shurlock B: where are we am I?

Pg. 1 Pan. 7

[The frame becomes an unearthly Octagon. An Alien with a grotesque green body, matte black face and fluorescent yellow wings takes up the whole of this shot and is reclined (?) on an alien Chair]

Alien: @⋄⊛@ [as translated, but cut off at the bottom: Who are you?]

Pg. 1 Pan. 8

[An exterior shot of our heroes' abode. Caption: "meanwhile on Earth"]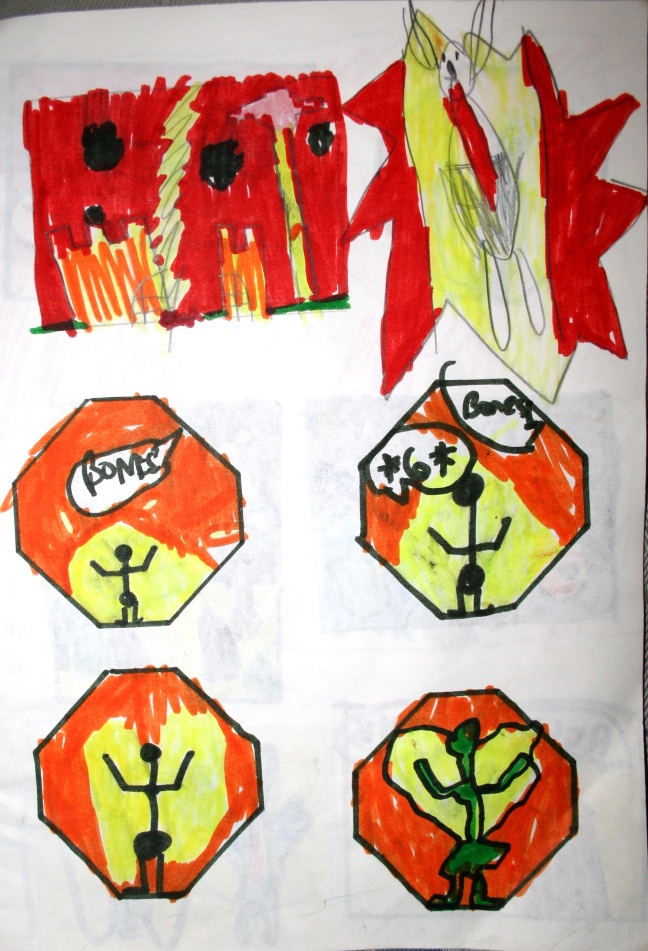 Pg. 2 Pan. 1
[The image of the previous panel is transformed into a Hellscape. The sky is red with darkling clouds hanging in the sky. The castle is cloven in twain by an Energy Bolt and the tree is a ghastly pink]
Pg. 2 Pan. 2
[The panel is a starbust, showing Dr. Roger of the obscene tongue being drawn up by a tractor beam.
Pg. 2 Pans. 3 -- 6
[All octagonal. They portray a humanoid figure bathed in yellow light against an orange background. In the first two panels we hear a voice crying "Bones", with the humanoid giving the response "@*@" in the second. In the third, the yellow light takes the form of angel's wings and in the final, it is clear we have been viewing a metamorphosis that is almost complete -- the humanoid... we must assume that it is Shurlock... is rapidly becoming an Alien.]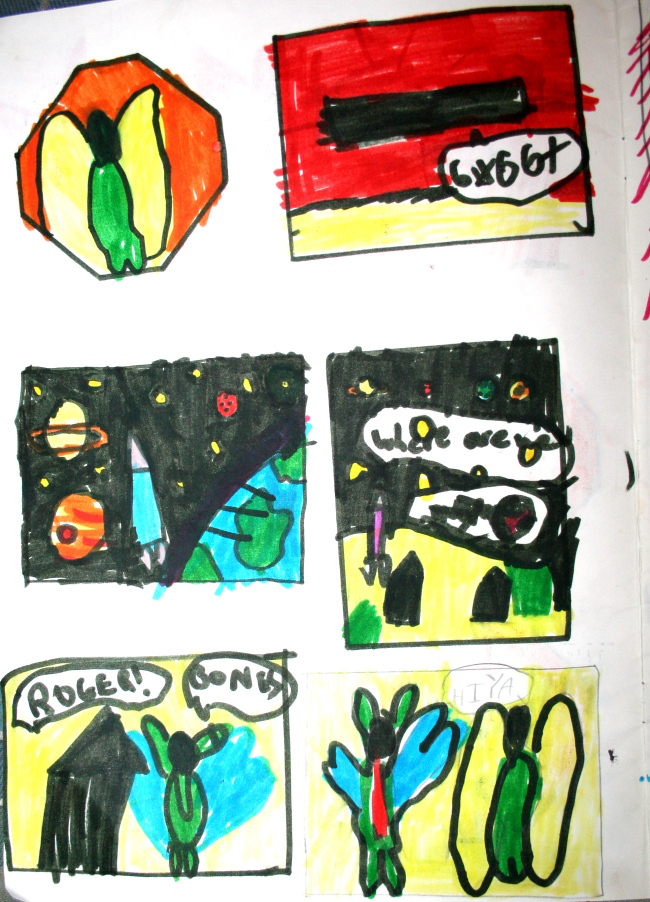 Pg. 3 Pan. 1
[The metamorphosis is complete. Shurlock is now identical to the Alien that drew our heroes there.]
Pg. 3 Pan. 2
[Establishing shot of the alien craft. It is a black cuboid, hovering lengthwise over the surface of the desolate Earth. From it, we hear alien words "6X66+"]
Pg. 3 Pan. 3
[The cuboid has become a rocket, launching from the Earth into Space. Mars, Jupiter and a translucent Saturn are clearly visible]
Pg. 3 Pan. 4
[On the surface of another world. The above planets plus the Earth are visible, lined up in the sky. Two house-shaped black structures as well as two green blobs are visible on the yellow surface]
Voice 1: where are we
Voice 2: [unintelligible]
Pg. 3 Pan. 5
[Dr. Roger is stood in front of one of the structures. It appears he too has undergone a transformation. He is similar to Shurlock, except his wings are blue and his tongue continues to hang loose.]
Dr. R: BONES
Shurlock B: ROGER
Pg. 3 Pan. 6
[Our heroes both together]
Both: Hiya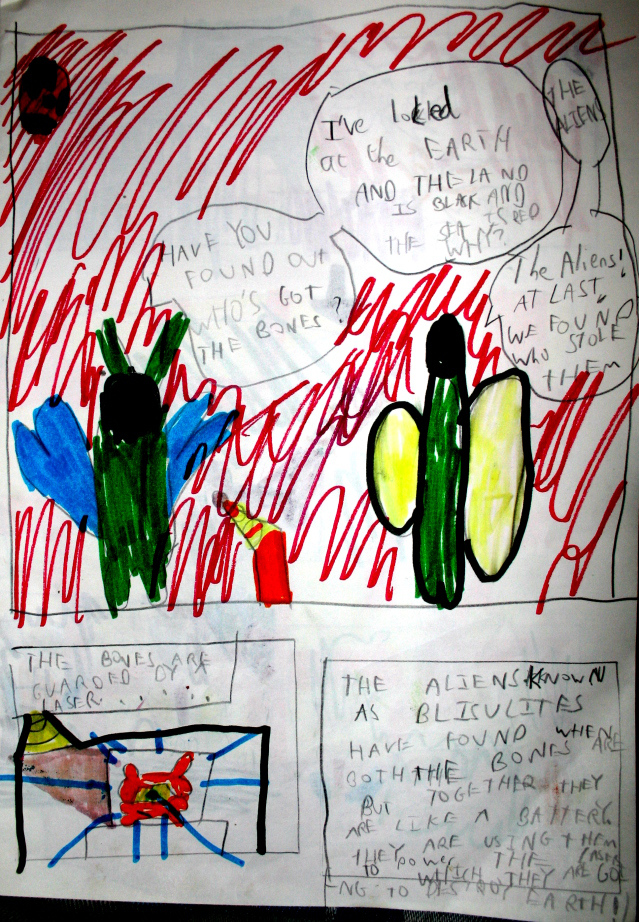 Pg. 4 Main Panel
[This page is rather heavy on exposition. The large panel is the same as the previous one, except the sky is red, there is a laser device in the middle of the panel, and the Earth hangs in the top left of the image in a black-and-red state]
Dr R: I've looked at the EARTH AND THE LAND IS BLACK AND THE SEA IS RED WHY?
Shurlock: THE ALIENS
Dr R: HAVE YOU FOUND OUT WHO'S GOT THE BONES?
Shurlock: The Aliens! AT LAST WE FOUND WHO STOLE THEM
Pg. 4 Left Panel
[The laser device is shown in a cutaway form. Caption: THE BONES ARE GUARDED BY A LASER]
Pg. 4 Right Panel
[Caption: THE ALIENS KNOWN AS BLISULITES HAVE FOUND WHEN BOTH THE BONES ARE PUT TOGETHER THEY ARE LIKE A BATTERY. THEY ARE USING THEM TO POWER THE LASER WHICH THEY ARE GO- -ING TO DESTROY THE EARTH!!]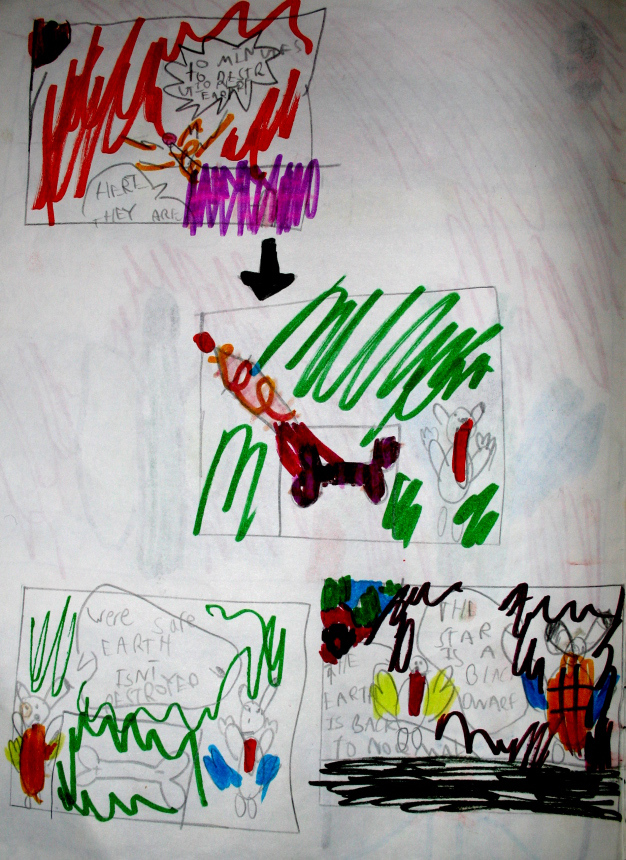 Pg. 5 Pan. 1
[Closeup on the laser device]
Laser: 10 MINUTES TO DESTROUI [...] EARTH! Dr. R: HERE THEY ARE
Pg. 5 Pan. 2
[Dr R. stands beside the device, which has been deactivated. The metamorphosis has been reversed and he is once again an Old English Sheepdog. His tongue still dangles offensively]
Pg. 5 Pan. 3
[Shurlock enters the scene. It is clear that although he too has been reversed, both dogs retain their alien wings]
Shurlock B: Were safe EARTH ISNT DESTROYED
Pg. 5 Pan. 4
[The floor has turned black and the Earth is turning blue and green again]
Dr. R: THE EARTH IS BACK TO NORMAL
Shurlock: THE STAR IS A BLACK DWARF
[I take this panel to mean that the laser is on a star that has been brought to the Solar System]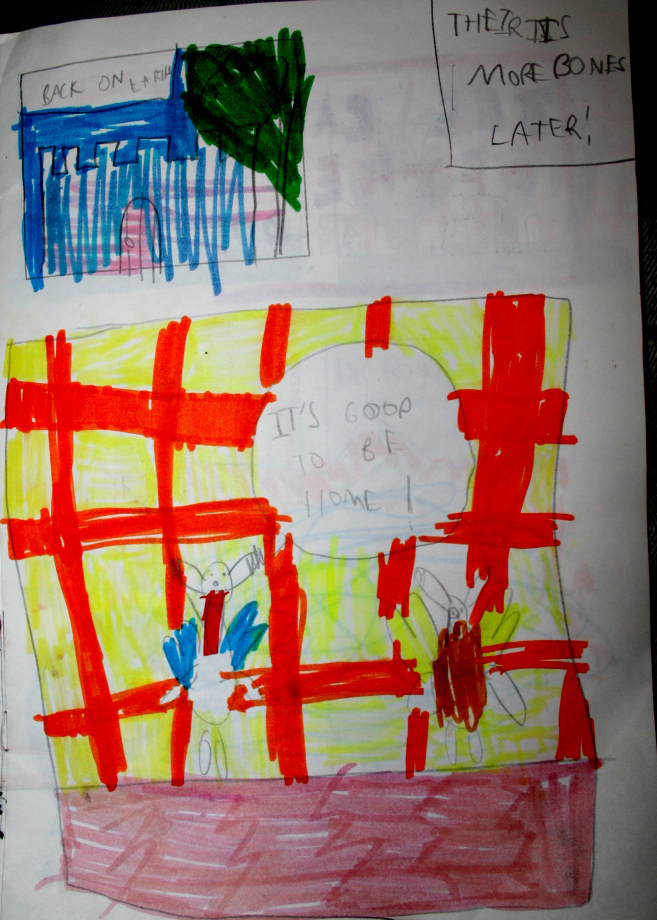 Pg. 6 Top Panel
[The castle is rebuilt, good as new and with a blue tinge. Caption: BACK ON EARTH]
Pg. 6 Bottom Panel
[Our heroes are standing together, transformed by their experiences, but cheerfully declaring:]
Both: IT'S GOOD TO BE HOME!
The final page of this story also warns us that "THEIR IS MORE BONES LATER!" On the next page, in fact...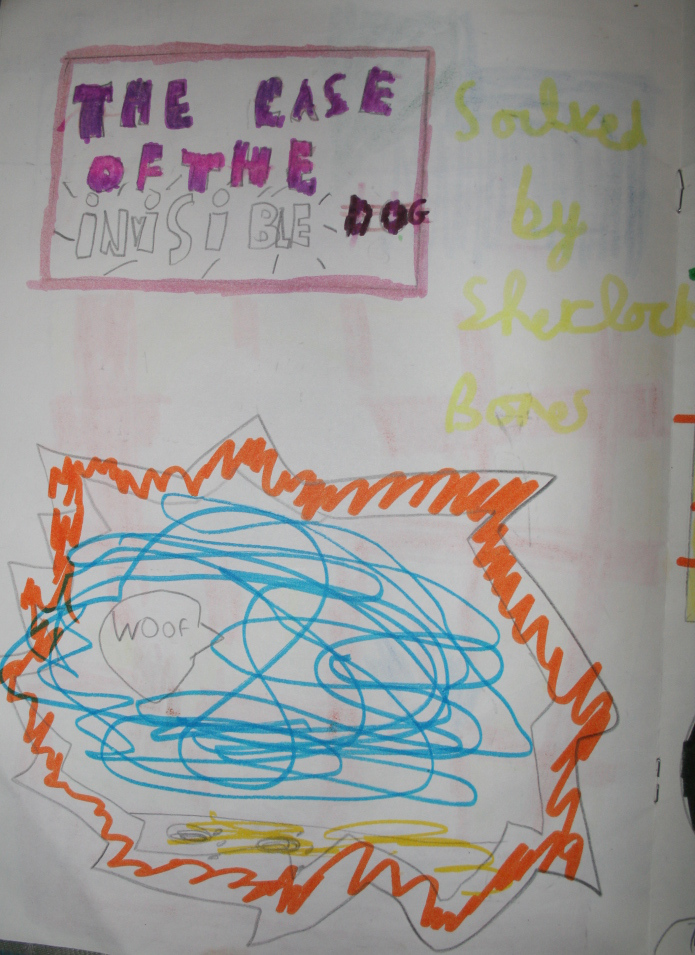 THE CASE OF THE MISSING BONE, Solved by Shurlock Bones
This is a briefer story and is really:
a) a fillip after the main feature and
b) a way to wreck more mutation on our heroes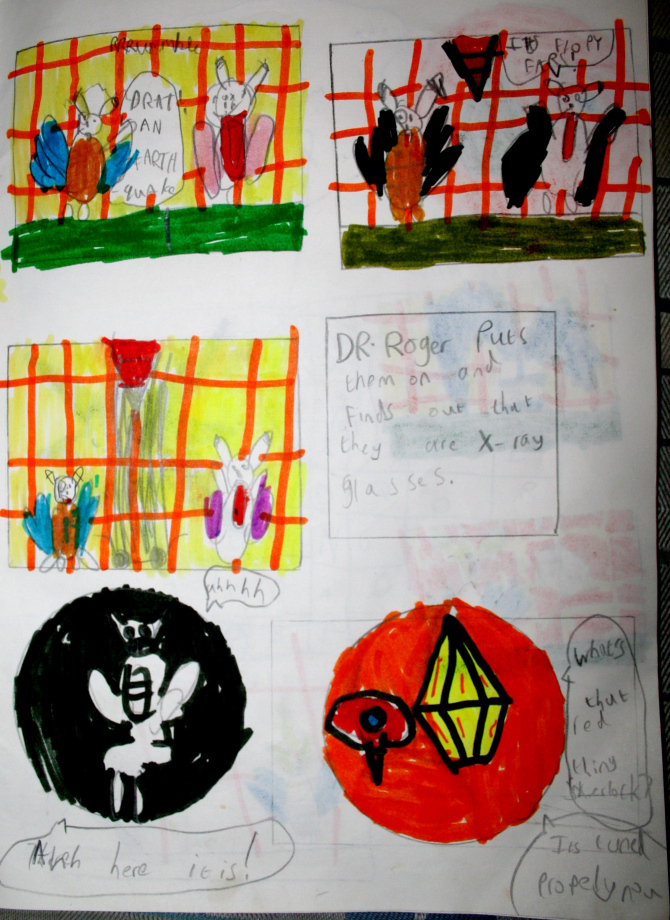 Pg. 8 Pan. 1
[The story begins with another rumble in the hall of the castle]
Shurlock B: DRAT! AN EARTHquake
Pg. 8 Pan. 2
[Another drilling rig descends from above]
Dr R: IT'S FLOPY EARS!
Pg. 8 Pan. 3
[Our heroes are startled as a pair of glasses falls from the rig]
Pg. 8 Pan. 4
[Exposition: DR. Roger puts them on and finds out that they are X-ray glasses.]
Pg. 8 Pan. 5
[A circular panel, displaying a skeletal form as in an X-ray]
Dr. R: ahhhh
Dr. R: ahh here it is!
Pg. 8 Pan. 6
[A more mystical, orange circular panel, showing the drill rig again, this time next to a giant, yet invisible, yellow crystal]
Dr. R: what's that red thing shurlock?
Dr. R: Its tuned properly now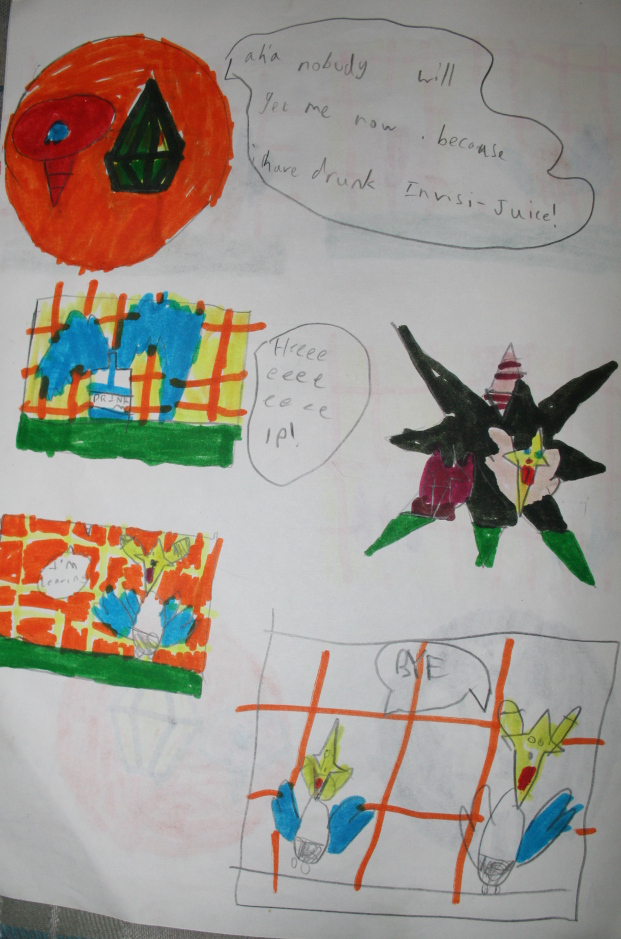 Pg. 9 Pan. 1
Flopy Ears: aha nobody will get me now. because i have drunk Invisi-Juice!
Pg. 9 Pan. 2
[A bottle of said Invisi-juice appears, labelled "DRINK ME", which is fountaining off into nowhere. Our Heroes are presumably drinking it.]
Pg. 9 Pan. 3
Flopy Ears[?]: heeeeeeeeeeeelp!
Pg. 9 Pan. 4
[The panel is a starburst, and is presumably in the Plane of Invisibility. Dr R. is visible, his head having been transformed into a star shape to go with his protruding tongue]
Pg. 9 Pan. 5
[Having been caught out, Flopy Ears decides to run away, and the drill retracts. Dr. R. has reappeared]
Flopy Ears: I'm leaving
Pg. 9 Pan. 6
[Sherlock B has reappeared, but his face too has become sideroform]
Both: BYE
And that is pretty much the whole comic. Except there is a Puzzle Page filler and a reverse with a punishing production schedule: